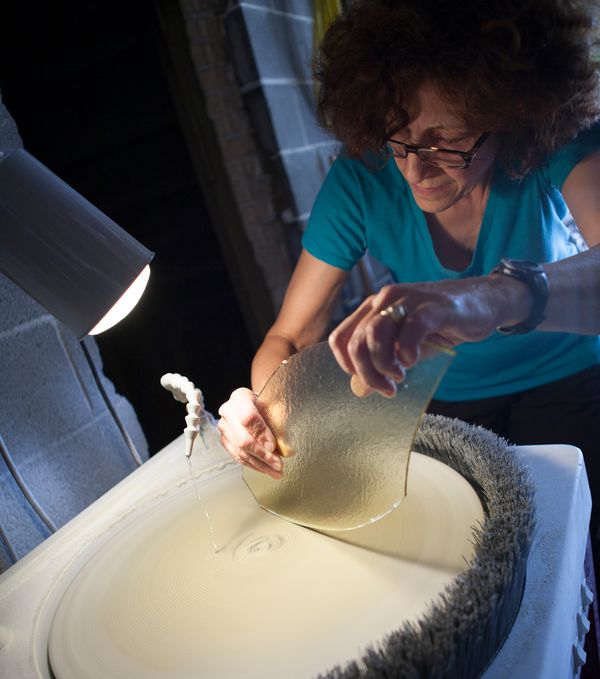 STUDIO
Founded in 1978 as a leaded glass studio, we remain in our original space but have expanded our techniques and capabilities over the years to include:
- Etching, painting, carving, fusing, beveling, casting, glass applique, and dye sublimation.
We specialize in large-scale custom art installations in public and private spaces including wall pieces, aerial pieces, and windows. We have created commissions for public, private and commercial spaces, often in collaboration with committees, always creating safe and lasting works. Our approach is driven by the site and architectural elements, making each piece unique and designed to elevate visitor's experience of the art and the location.
PROCESS
If possible, the client first visits the studio to see samples of materials and techniques and to discuss the project. Details discussed include how the space will be used, the creative goals, the size, style, technique, lighting considerations, timeline, architectural finishes, and installation requirements.
We then prepare an estimate for the project based on the initial discussion. The figure is generally a range as the designs are to be completed and the degree of difficulty is to be determined. This estimate provides the opportunity for the client to understand what elements and techniques increase the cost and helps us to better understand the client's budgetary constraints.
If the client is ready to proceed, a design fee of 15-20% of the overall budget is required to produce drawings, make glass selections and create a sample (if necessary). This may also include a site visit.
After the design is created, we will present that and any accompanying samples to the client and then make any necessary adjustments.
An additional 35% is then due to commence fabrication. The remaining 50% is due upon installation/delivery.